Gillian Lafrate: Student Teaching With a Twist (or two)
Early in student teaching in January, Gillian Lafrate was operating from an empty classroom with her Warren third graders fully virtual and her host teacher working from home. The Saginaw Valley State University senior elected to come in, given a choice.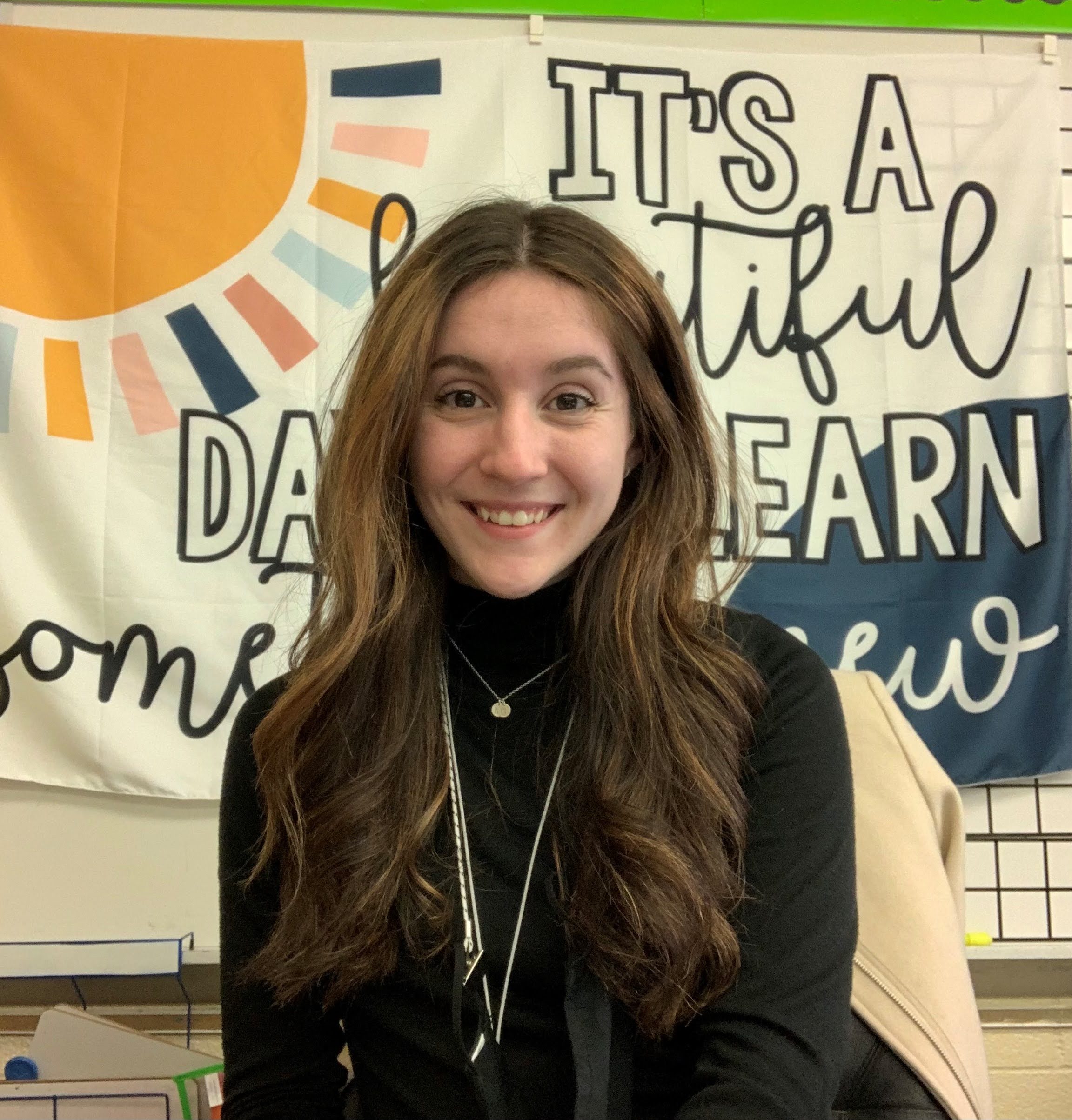 "My little sister is in seventh grade. She was learning virtually. My stepmom is a middle school teacher, so she was at home teaching virtually, and I was like, 'It's not feasible for me to be in my house to do this.'"
Online teaching ran all day when all students were virtual, with math and reading intervention groups in afternoons. Lafrate eased into teaching all subjects, adding more responsibility each week. She and her host teacher planned together online and reflected continuously.
"She was very available for me, but if I just needed something small, I couldn't look over my shoulder and say, 'Hey, I need this.'"
As the district transitioned some children back into the building, the schedule changed three times over several weeks to accommodate various blends of hybrid learning. Elementary educators' time is divided between virtual and in-person students.
Each time the schedule changed, Lafrate and her host teacher—now physically together—had to reassess and revise plans.
"We take it one day at a time, and we'll eventually figure out what works and what's going on. But I have to staple a note on my forehead so every time I look in the mirror I see it. 'Take a deep breath. It'll be fine. We'll figure it out.'"
The good part about student teaching during a pandemic is that the host teacher is learning alongside you, Lafrate added. "Her lessons that work in person might not work online, so she says, 'Why don't we try new things?' So I've been able to try things I want to do."
One of her best experiences leading the class was teaching parts of speech using fill-in-the-blank writing known as Mad Libs. Students offer nouns, adjectives, and adverbs, which are randomly inserted into sentences, creating nonsense meanings and lots of laughs. "They were so excited coming in, saying, 'Are we going to do grammar now?'"
However, it wouldn't be student teaching if the highs weren't contrasted with lows: "Last Friday was terrible, and it had me thinking Am I a terrible teacher? What am I doing wrong?"
The children had begun learning multiplication tables, starting with twos and fives. After a week of lessons, Lafrate reviewed and quizzed, and many in-person students did not pass. After reflection and self-doubt, like all pros, Lafrate tossed scores and started over.
She's already dreading leaving the class: "I want to be their teacher every grade for the rest of their life."
In addition to her host teacher, Lafrate has Aspiring Educators of Michigan (AEM)—MEA's pre-professional arm—to give her support and guidance. The group helped her to gain leadership skills and directed her to resources she didn't know existed, Lafrate said.
"I now have a family of future teachers and current teachers that I know I can reach out to if I ever have any questions or need support," she said. "Being a part of AEM has been such a great experience and I know the connections I made in this program will help me in my future."
Read more stories from the series, "What it's Like: COVID Vignettes":
Karen Moore: secretary with a purpose
Karen Christian: COVID ICU survivor
Jacob Oaster: leader, teacher, innovator
Amy Quiñones: Charting New Waters
Union Presidents Lead through Unprecendented Crisis
Jill Wheeler: On Books, Kids, and ESP
Gary Mishica: His Work is Hobby, Joy, Passion
Demetrius Wilson: 'We've made it work'
Shana Barnum: 'It's heart-wrenching'
Claudia Rodgers: Committed to her Work
Danya Stump: Building Preschool Potential
Rachel Neiwiada: Honored on National TV
Tavia Redmond: 'Let me tell you about tired'
Jaycob Yang: Finding a Way in the First Year
Julie Ingison: Bus Driver Weaves Love into Job
Chris DeFraia: Sharing a Rich Resource
Eric Hudson: Playing a Part to Beat the Virus