Lauren Jasinski: 'It's the hardest thing I've ever done'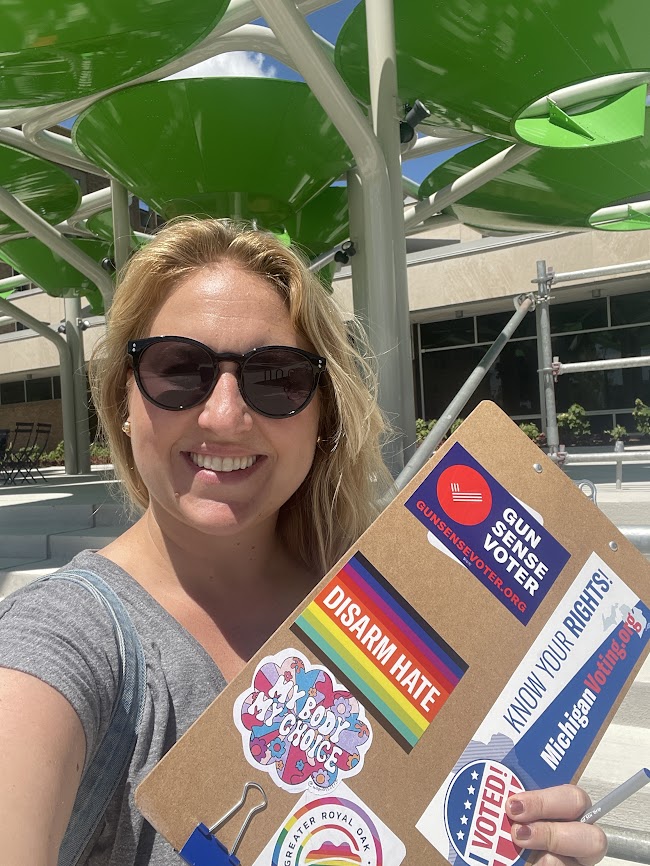 A public policy nerd since college, Lauren Jasinski always expected to expand her career beyond a high school classroom. But the devastating shooting at Oxford High School sped up her departure from teaching civics, world history, and AP Comparative Government.
"I love working with high school students; I think I'm good at it. I'm incredibly passionate about the skills taught in social studies classrooms—they're so important right now. But between COVID and things happening in schools at a cultural level, and then the shooting, it changed my timing."
The 10-year teaching veteran finished out last school year, but around spring break she gave notice she would not return. "It was a decision I didn't take lightly, and it's still the hardest thing I've ever done."
On the day of the shooting, Jasinski was about to start a freshman world history class in a room so close to where the gunman opened fire it smelled of fireworks after the first few pops of noise. A student from the class, 14-year-old Hana St. Juliana, was among four young people killed in the attack.
"Nothing could have prepared me for the amount of loss we've experienced, or for how non-linear the process is of working through it," she said. "It's just a lot of layers of trauma, layers of heartbreak."
Over the summer Jasinski ran for school board in Royal Oak on a platform of school safety and educator retention. She won her race on Nov. 8, arguing for educator voice in policymaking.
"We can't continue to put teachers in these unreasonable situations with unreasonable expectations. We're still losing them and having trouble bringing new ones in, and that's heartbreaking to me because I think teaching is the best job in the whole world—and the most important."
Jasinski has continued working with Oxford students who launched a nonprofit with her assistance, No Future Without Today. She also joined the steering committee of MEA's new Protect Our Schools Action Team.
Activism around gun violence is not new to her. She began her career in the year 20 children and six adults were killed in Newtown, Connecticut, and ended it after 19 fourth graders and two teachers were murdered last May in Uvalde, Texas.
"This is a cause I've always felt strongly about. It's just that now the universe has given me something more to say about it, so if people are listening: We have to do something."
Read all of our stories detailing the Oxford school community at one year:
Jim Gibbons: 'It's harder this year than last year'
Megan Pavlock: 'It helps to direct our energy towards good'
Audrey Wright: 'We don't have to live like this'
Dylan Morris: 'We're making connections and meeting with people'
Zoe Touray: 'They don't have to go through it alone'
Molly Darnell: Teacher injured in Oxford school shooting shares her story of trauma, change